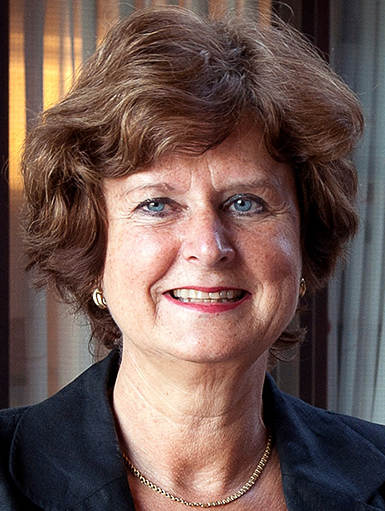 prof. M. (Marianne) de Visser
Role

Professor emeritus of neuromuscular diseases
Marianne de Visser (1950) has been a member of the Council since 1 September 2013. She studied medicine at the University of Amsterdam, obtaining her degree in 1975. She has been a neurologist since 1980 and obtained her doctorate in 1981.
She has worked as a neurologist at the AMC Medical Centre at the University of Amsterdam since 1982. Since 1993 she has been Professor of Neuromuscular Diseases at the University of Amsterdam. From 1999 to 2009 she was a member of the board of the Netherlands Organisation for Health Research and Care Innovation (ZonMw), part of the Netherlands Organisation for Scientific Research (NWO). She was also vice-chair of the Health Council of the Netherlands from 2002 to 2010.
Marianne contributes to the projects 'Sustainable Health Care', 'Digital disruption', 'Health equality and inequality' and 'Philantropy'.
Other positions/offices held
Member Supervisory Board UMCU
Member Supervisory Board Centre for Human Drug Research
Chair Forum Biotechnologie and Genetica
Member of the Supervisory Board Leyden Academy
Chair and commissionner at LifeLines
Chair Programmcommission Memorabel, ZonMW
Chair board Vereniging Samenwerkingsverband Chronische Ademhalingsondersteuning
Member Board Commissie Genetische Modificatie
Member Board Voeding Leeft!
WRR-Publications