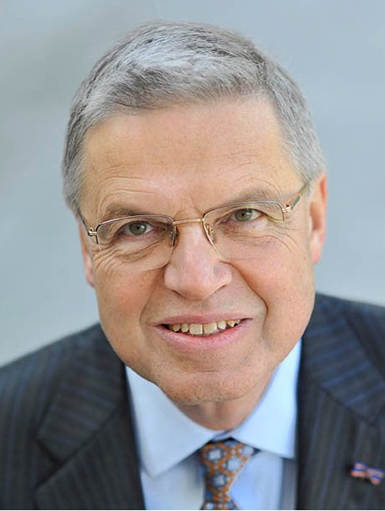 prof. E.M.H. (Ernst) Hirsch Ballin
Role

University professor Tilburg University and professor of Human Rigts Law University of Amsterdam
Ernst Hirsch Ballin (b.1950) was a member of the Council from 1 July 2014 until 1 April 2019, at present he is an advisory member of the Council. He is a distinguished university professor at Tilburg University and vice-dean for research at Tilburg Law School. Since 2005, he is a member of the Royal Netherlands Academy of Arts and Sciences (KNAW) and since 2022 honorary member of the Advisory Council on International Affairs.
Professor Hirsch Ballin studied Law at the University of Amsterdam and was awarded his doctorate with 'cum laude' honours in 1979 with a thesis on public law and policy (Publiekrecht en beleid). He has worked at the Law faculty at Tilburg University since 1 July 1981, with interruptions during periods when he held political offices. From 2011 to 2020 he was also a professor at the University of Amsterdam.
Political/administrative career
Ernst Hirsch Ballin was the Minister of Justice from 2006-2010 (with Prime Minister Jan Peter Balkenende) and 1989-1994 (with Prime Minister Ruud Lubbers). From 1989-1994 he was also Minister for Netherlands Antilles and Aruban Affairs and from February-October 2010 Minister for the Interior.
Hirsch Ballin was a member of the Lower House of Parliament from 1994 to 1995, and sat in the Upper House from 1995 to 2000. From 1999 to 2000 he was a member of the Convention charged with drawing up the EU Charter of Fundamental Rights. He was subsequently appointed to the Dutch Council of State (2000-2006), becoming chairman of the Administrative Jurisdiction Division in 2003. 
Other offices
Vice-Chair of the Human Rights Committee of the Advisory Council on International Affairs (AIV) / member of the AIV
Vice-Chair of the Board of Vereniging Achmea. On behalf of the Board of Vereniging Achmea member of the board of 

Stichting Administratiekantoor Achmea

and

Stichting Administratiekantoor Achmea Tussenholding

.
Chair of the Supervisory Board of

Stichting Anne Frank

Foundation (Anne Frank House)
Chair of the Scientific Council of Stichting Instituut GAK Foundation
Chair Octavia van Breemen Foundation
Member Human Rights Watch Committee Netherlands
Chair of the Supervisory Board of the Asser Institute for International and European Law, affiliated with the University of Amsterdam
Projects
At the WRR Hirsch Ballin contributes to the following project:
Publications