Knowledge Exchange with French AI Experts
On 28 February, a WRR delegation visited France Stratégie, the French public think tank overseen by the French Prime Minister. The central theme of the day was artificial intelligence (AI). The WRR has recently started an AI research project while France Stratégie concluded its study last year. As such, the WRR enjoyed the opportunity to gain insight into the French approach to AI.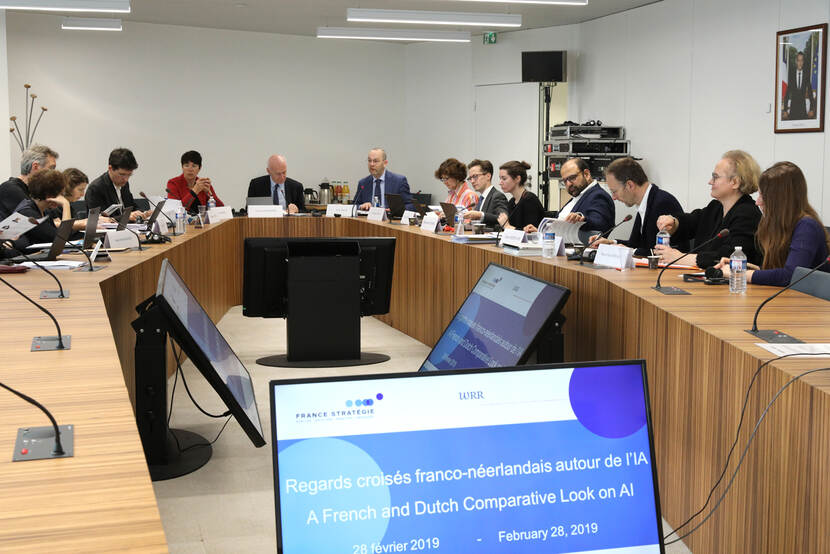 Alternative approach
To begin with, the WRR talked to the key figures about AI strategy within the French government. Bertrand Pailhes, the National Coordinator of the French AI strategy, for instance, talked about Good old-fashioned ai (Gofai), alternative AI approaches at which the French excel. Furthermore, France has selected three key industries for developing AI: public health, economics, and transport. Officials from the Ministries of Economy and Finance, Public Health, and Transition shared their first experiences with the implementation of the French AI strategy within their specific policy areas.
 
Focus on domains
Two particularly interesting insights emerged from the visit. In the first place, France's AI strategy targets domains in which the country is already strong. The French expertise in the automotive and railway industries explains the focus on transport. The same holds for healthcare: the centralised regime of the country means that it boasts a unique standardised healthcare-related database for which algorithms can be developed. A second insight was that not enough attention was devoted to communicating the French AI strategy to the population, risking a lack of faith in the new technology. In the past, the evolution of AI shut down during so-called 'AI winters'. If the population does not learn to trust on AI, another winter will present itself, say the French experts.
 
AI in healthcare
In the afternoon, the WRR discussed the impact of AI in the workplace. Robert Went talked about the WRR exploration entitled De robot de baas (In Control of the Robot) and the ongoing study on the future of Work. The participants also talked about the impact of AI on employment. France Stratégie recently launched a study concerning AI in healthcare.
 
Yellow vests
Clearly one cannot visit France and Paris without discussing the yellow vests. We were updated on the issue in the margins of the meeting, Learning about the social and economic background of the unrest in France, the notable role of retired workers in the first protests, and the extent to which a large-scale national debate may or may not be functional in addressing the widely shared discontent. France Stratégie also shared its insights, obtained in part on the basis of empirical research. All this provided valuable input for the research the WRR conducts on the possible interaction between social uneasiness and the uncertainty with regard to their social and economic position as experienced by citizens. The WRR looks back on a successful and inspiring meeting. Despite the differences between France and the Netherlands, this visit confirms the importance of bilateral exchange.