Justice and Transparency
On 17 January 2013 The Netherlands Scientific Council for Government Policy (WRR) presented his latest investigation Speelruimte voor transparantere rechtspraak (Scope for a more transparent justice system).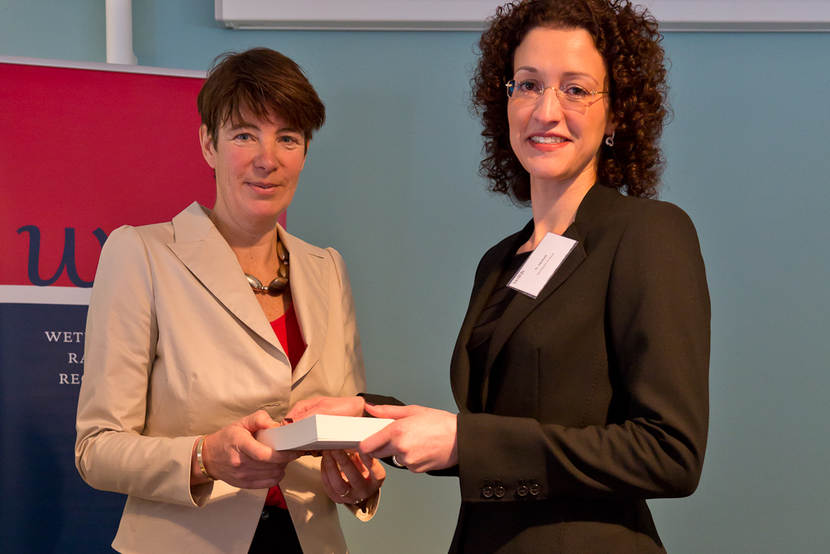 Youngest judge
The first copy of the investigation was presented by the WRR to Dr. N. Djebali, who was sworn in as a judge at the Court of Arnhem with effect from 1 January 2013. At that time she was the youngest judge in the Netherlands. The presentation took place in the presence of G.J.M. Corstens (President of the Supreme Court of the Netherlands), F.W.H. van den Emster (Chairman of the Council for the Judiciary) and Mr. M.C.C. van de Schepop (chairman of the Netherlands Association for the Administration of Justice), who engaged in a debate chaired by Marc Chavannes.
Transparency
The study presents ideas for a more contemporary transparency of the administration of justice relative to the different 'outside worlds' with wich it comes into contact.
To what extent should the administration of justice be open to debate and criticism? The efforts of the judiciary in recent years have been aimed mainly at ensuring that the work of the courts is open and understandable. The WRR argues that the debate about public support upon which the administration of justice must rely in today's society can ultimately not be conducted without addressing the question of the scope for discussion with and criticism of the administration of justice.
Authors of the publication
The main argument, the essays and the empirical studies in this Investigation arose within a WRR project on 'Justice and transparency' led by Council member Professor Corien Prins. The Investigation contains contributions by Maurice Adams, Dick Broeren, Ernst Hirsch Ballin, Marijke Malsch, Joost van Spanje, Claes de Vreese, René Westra and Willem Witteveen. The editors, Corien Prins (WRR member), Dennis Broeders, Henk Griffioen, Petra Jonkers, Meike Bokhorst and Marijn Sax (WRR staff members) wrote the main argument and some of the essays in the second part.